With the emergence and acceptance of homeworking, organisations are now constantly on the lookout for solutions to help them remain compliant. And Microsoft Teams Call Recording is among those solutions.
Microsoft Teams as a platform has transformed the way millions of organisations work. It has enabled Team communications, supporting internal and external collaboration. With one application, Microsoft Teams can support multichannel communications including:
Chat

Video

Voice Calling

Document Sharing
However, with the emergence of new communications technology, also comes the emergence of new forms of communications that must be recorded. Highly regulated industries, such as the financial sector (including Trading Floors or Insurance) are often challenged with meeting these compliance requirements.
Call Recording Compliance Regulations
As an example, MIFiD II (Markets in Financial Instruments Derivative) demands that all customer communications that result in a transaction (whether intended or not), across any channel (including Microsoft Teams) or modality, must be recorded. It must also be accessible if requested by regulatory bodies.
In addition, with regards to homeworking, the Financial Conduct Authority (FCA), still expects both office and remote working arrangements to be equivalent in ensuring markets are clean. This means that regardless of homeworking, organisations still need to ensure that all communications that are made with, sent from, or received on equipment provided by or permitted for use by business purposes, need to be recorded. The FCA expects firms to have updated their policies in reflecting this, particularly regarding the risk of use of privately owned devices.
Therefore, to comply, it's critical that organisations ensure they are capturing all communications. This includes communications made when using their MS Teams platform, particularly with Microsoft Teams meetings.
Are Microsoft Teams Calls Recorded?
The "start recording" meeting option has been available in Microsoft Teams for a while. As well as the meeting recording option, users also have the option to enable Microsoft Teams recording transcription.
Microsoft Teams Call Recording is a great feature to have. However, for many organisations such as Trading Floors, Financial Services or Contact Centres, it's not enough to simply use the native recording within Teams.
These organisations need to be able to efficiently record, store and monitor regulated interactions to remain compliant. They will need easy access to the recording. Users will need to look for features including secure storage, search & playback, security and resiliency, which Microsoft Teams on its own will not be able to provide.
In addition, most organisations will also need to be able to choose which call scenarios they wish to record. For example, some organisations may only need to record internal calls. To meet all requirements, most users will require a 'policy based' compliance recording solution which Microsoft Teams recording on its own will not be able to provide. The compliance recording solution can then be configured to match the organisations compliance policies.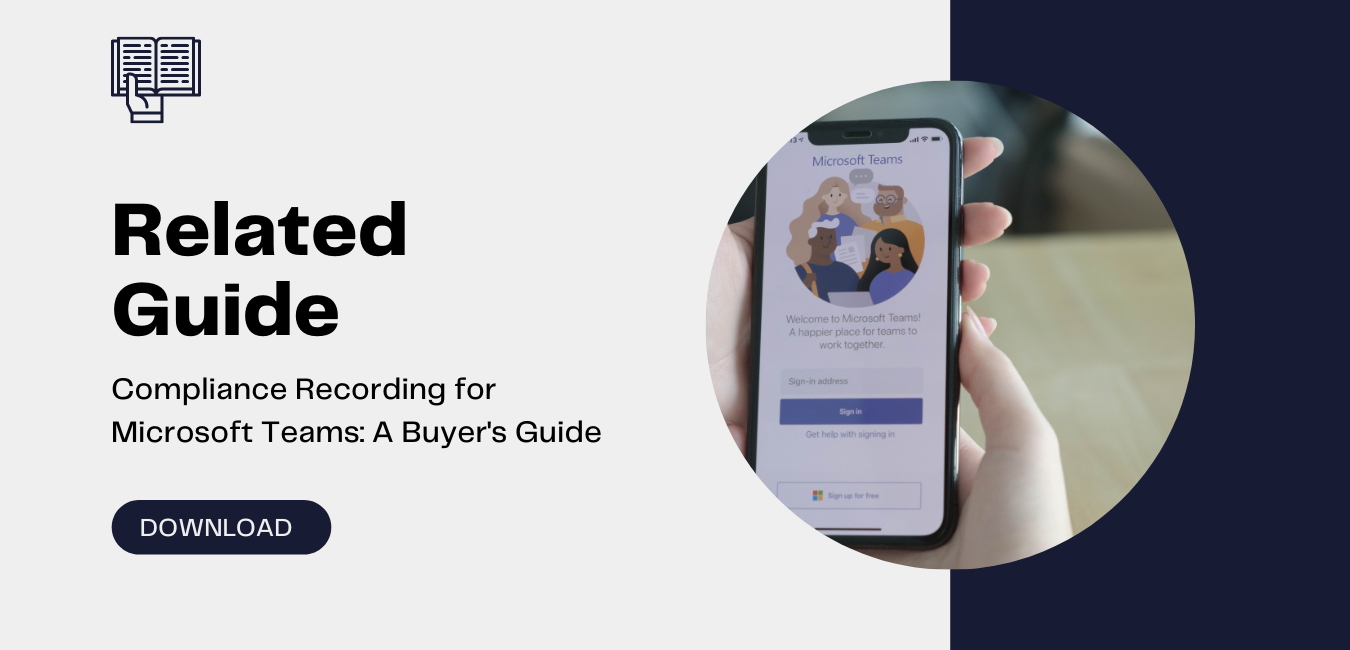 Where are Microsoft Teams Recording Stored?
Microsoft Teams recordings are stored on OneDrive for business and Sharepoint. However, for organisations within highly regulated industries, OneDrive and Sharepoint do not meet the strict security standards of storing communications data. These security standards are set up to specifically avoid data deletion or alteration of files during a retention period for example.
What To Consider With Microsoft Teams Call Recording
Some of the questions end-users should ask themselves when looking for a compliance recording teams provider and a recording solution include:
Which call recording regulations does your industry need to comply with? This might impact the features your Teams Call Recording provider will have to provide you with.

Do you have a good idea of the volume of traffic that needs to be recorded across calls, video and chats? This will impact which Teams Call Recording vendor you choose, as recording storage will be an important requirement.

Do you have an idea of how employees are communicating internally and externally? For example, are employees using voice calls, video meetings, screen sharing and chat Teams features? If so, your Teams recording vendor will need to ensure all these forms of interactions are being captured, stored and are easily retrievable.

Do you have a preference as to where you would like your Teams recording capability to be? Basic Microsoft Teams recording capability is only available in the public cloud. However, many Teams call recording vendors provide a choice of different deployment models including:

On-Premise
Hybrid
Cloud (public and private)
Are you looking out for a technology solution that is based on integration with the official Microsoft Teams Calling API? A feature such as this, means the solution is flexible enough to allow different deployment scenarios and delivery methods.

Do you have a preference as to where recordings will be stored? For example, will it be in the NAS/SAN infrastructure, or public or private cloud storage? This is important to consider, as some vendors may be better equipped and experienced in certain storage situations.
It's also important to be mindful that if you choose a complete Software as a Service solution (SaaS) from a supplier that also provides the storage, that they have the capability to deliver the recordings to a customer storage location at the end of the SaaS contract.
How To Choose The Right Microsoft Teams Call Recording Provider
All the main call recording providers such as NICE, Verint, and Red Box as well as ourselves, will offer Teams recording – the challenge lies in finding the right solution that works with current systems. It's also important to find the right solution that enables secure and seamless communications without disrupting or posing barriers for business.
Look at what is important to you – what is your utilisation on teams like? What storage platforms do you want to use? Where do the recordings need to be stored? Do you need resilience in your capture platform? Does your current recorder offer this? Do you need it to send recordings to any analytics platforms?
If you are operating in a highly regulated industry and using Microsoft Teams internally and externally, get in touch with our team to find out what's the best solution for your business.