Speech Analytics (also known as Interaction Analytics) is the process of analysing customer interactions to help spot trends and patterns. Speech Analytics is a popular call centre software solution. The technology can analyse different types of customer interactions including social media, email, text and web chat. One of the key benefits of using Speech Analytics is to improve customer satisfaction as well as agent performance. 
How does Speech Analytics work?
By taking large volumes of unstructured raw data, such as call recordings, Speech Analytics can catalogue and index thousands of customer interactions. This can uncover a wealth of untapped knowledge, which a contact centre may have, but is not utilising.
Analytics brings structure to unstructured data, by allowing users to select key terms and phrases across all customer interactions. This can then pinpoint call drivers, compliance issues or spot key trends for contact centres to keep on top of.
Some of the best ways for contact centres to utilise Speech Analytics software includes:
Analysing 100% of interactions Rather than just a random sample, enabling contact centres to better understand the customer journey.
Sharing valuable knowledge Allowing other departments such as Marketing to track customer comments. This can help them understand if key marketing messages are being understood.
Pinpoint successful agent behaviours By using Analytics, call centres can isolate and track customer interactions which are successful. This can reveal agent behaviours that may lead to a successful sale or a happy customer. It may also reveal agent behaviours that do the opposite. In this case, contact centres can then focus on targeted agent training to improve customer service.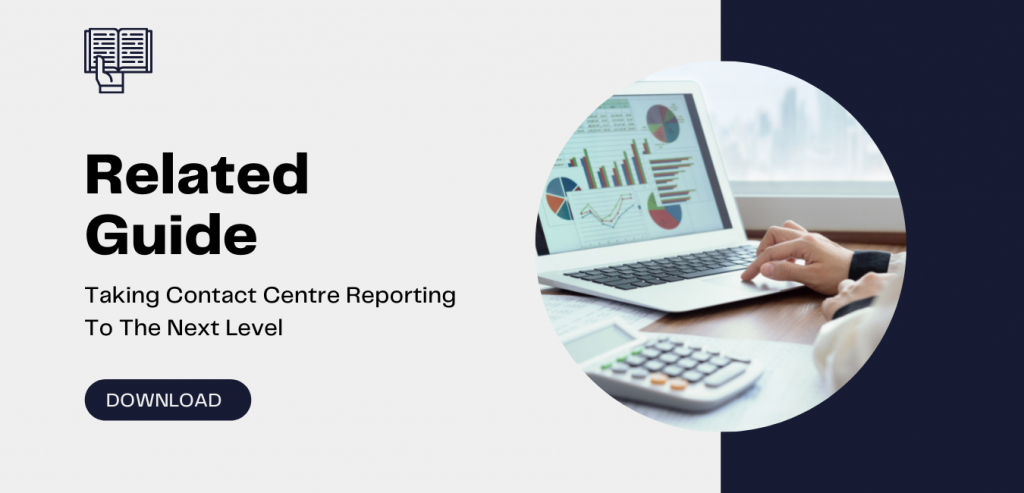 What are some of the features of Speech Analytics Software?
Some of the core features of Analytics technology includes:
Word Clouds Highly configurable word clouds. This includes the ability to add filters for sentiment, speaker or phrase length.
Call Categorisation Ability to identify the most relevant topics being mentioned in customer interactions. Popular topics are based on predefined user requirements.
Sentiment Analysis Sort calls based on positive or negative sentiment. In addition, Speech Analytics software provides the ability to view trends with visual displays such as dashboards.
Speech-to-text Engine Written record of every phone conversation with speech transcription functionality
Text Analytics Ability to analyse text based interactions including:

Email
Web chats
Social media

Reporting Interactive charts and widget-based dashboards which illustrate the customer journey
What questions should I ask my supplier when looking for an Analytics Solution?
Deciding to invest in Speech Analytics technology is a big decision which requires much research to be done prior.
Here are a few questions which contact centres should consider asking potential Speech Analytics providers:
Can the platform build a single view of the customer? With the rise of omnichannel contact centres, multichannel analytics is now a must.
How quickly can the data from interactions be mined into actionable business insights? When evaluating Speech Analytics solutions, it's important to consider how quickly you will expect to see results.
How will the solution integrate with existing recording technology?
Can the solution offer easy-to-read reporting dashboards? This is particularly important for the purpose of agent training. For example, reporting dashboards can be shared with agents during coaching sessions.
What are some of the best Analytics tools?
There are many solutions to choose from on the market today. Some of these include:
NICE Nexidia Interaction Analytics: Powerful industry leading AI-enabled Interaction Analytics. This solution can leverage:

Omnichannel Analytics
Historical Analytics
Real-time Analytics
NICE Nexidia Analytics is one of the only solutions that uses Deep Learning Neural Networks. This means an analytics algorithm is delivering the highest accuracy against real-life conversational audio. NICE Nexidia Analytics can also produce:
Customer sentiment scores
A phonetic index
Word-level audio transcription
Calabrio Analytics: Powerful Analytics solution that helps to build customer-centric strategies across the whole contact centre.
The solution is equipped with a sophisticated phonetics engine. This engine can transform call audio into a sequence of sounds that allow accurate searching of keywords and phrases. Acronyms, slang, dialect and product names can all be picked up. In addition, Calabrio Analytics comes equipped with tools including:
Sentiment Analysis
Predictive Net Promoter Score (NPS)
Predictive Evaluations
Agent Benchmarking

Verint Speech Analytics: Scalable Speech Analytics software to extract insight from recorded calls and interactions. Includes the ability to categorise calls and extract transcripts for enhanced contact centre performance.

NICE CXone: Speech Analytics (previously known as NICE inContact CXone Speech Analytics): Cloud based Speech Analytics solution. This solution forms part of the functionality included in the NICE CXone suite. Equipped with AI-powered Omnichannel contact centre analytics functionality.
If you're looking for an analytics solution, talk to our team. Trusted by some of the world's largest call centres and banks, we have implemented Speech Analytics for a number of reasons. These include agent engagement, customer service, quality assurance and proactively monitoring compliance.
If you are looking to build a business case for this technology, then download our guide which will inform you on the top 10 use cases of analytics in contact centres.