Call Recording solutions are used in most organisations today, particularly ones which are customer-facing. Voice recording is a popular call centre software solution and is used by many.
Depending on which industry is using this technology, the benefits vary. For example, a bank may be using call recording for compliance adherence and fact verification. A contact centre, may be using call recording for agent/employee training, script adherence and dispute resolution.
Government and Healthcare organisations on the other hand, may be using voice recording as a mission critical tool. The recordings may be used to help reconstruct events and prevent future occurrences.
What are Call Recordings used for in a Contact Centre?
Along with compliance purposes and improving customer experience, voice recording forms part of a contact centre's Quality Management program.
Therefore, when looking for a solution, contact contact centres should choose one that supports their Quality Management and compliance needs.
When used for Quality Management, call recordings can be reviewed by a contact centre supervisor, team leader or analyst. This determines whether agents are:
Complying to the script
Building customer and agent rapport
Providing accurate information
Offering cross-sell/up-sell products and services
As recordings contain an objective record of the customer experience, they are an extremely valuable source of information for contact centres. They can be used to boost the customer experience and customer service, identify caller trends, and improve operations. These benefits also allow contact centres to reduce costs in the long-run.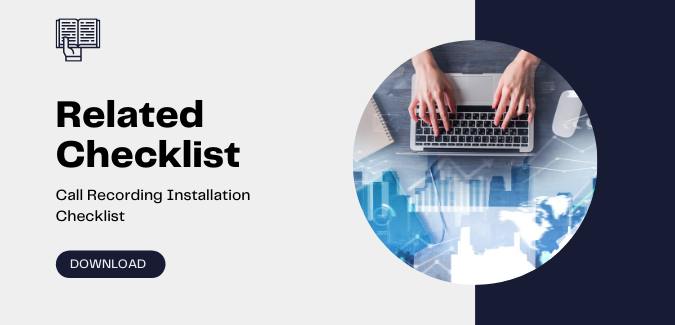 What is the best Call Recording Software for a Call Centre?
NICE Engage:
NICE's Engage platform provides an omnichannel recording and interaction management platform. NICE Engage makes it easy to record and manage 100% of customer interactions. These can be across multiple channels and data sources.

Red Box Quantify Call Recording:
Quantify is a smart, scalable, and innovative voice recording solution. It comes equipped with industry-leading features which are suitable for businesses of all sizes, from SMEs up to enterprise organisations.
Verint Intelligent Call Recording: (Formerly known as Verint Impact 360 Call Recording)
Verint Intelligent Recording is an omnichannel interaction recording solution. It captures voice, video, and text interactions across multiple channels via a single recording solution. These channels include:

PBX
VoIP
Chat
Digital collaboration
Email
Mobile voice/SMS
Trading turrets
Face-to-face
NICE CXone Call Recording: (previously known as NICE inContact CXone Call Recording)
Powerful contact centre recording software which forms part of the functionality modules included in NICE CXone. A scalable and robust solution, CXone evolves alongside emerging contact centre needs.
Calabrio ONE Call Recording:
A fully integrated recording platform which forms part of the functionality modules of Calabrio ONE WFO. Calabrio ONE monitors 100% of customer interactions with robust metadata functionality to search through hundreds of calls.
Skype for Business Recording:
Reliable recording software ensuring all Skype for business communications are recorded and stored. The recording solution effectively meets compliance and monitoring requirements.

Microsoft Teams Recording:
Robust Microsoft Teams recording software which captures, replays, archives and analyses all Microsoft Teams communications. This includes chats, calls, videos, screen-sharing and more.
If you're looking for a voice recording solution for your organisation, then talk to our team. We have over 30 years' experience in call recording expertise.
Alternatively, if you've already scoped a recording system that will work for you, then don't forget to ensure you are getting the right voice recording support. Download a copy of our guide to find out what voice recording support you should be receiving: